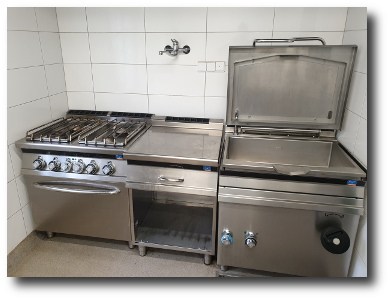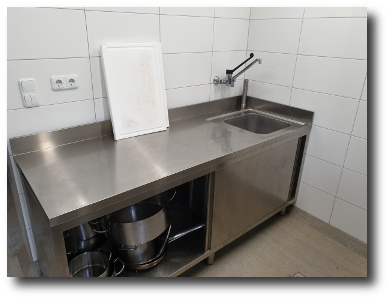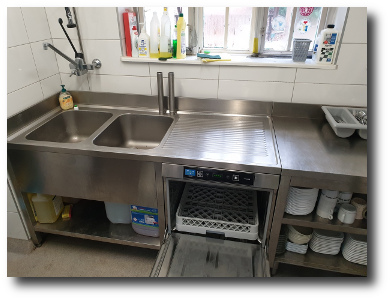 Self-catering kitchen
Our commercial kitchen is equipped for cooking teams of up to 6 people, catering to the needs of groups of 120 guests or more.
commercial gas stove with four hobs: 3.5kW, 5.5kW, 5.5kW, 7.5kW
electric oven with 4x standardized Gastronorm GN 2/1 guides of 65x53cm
electric tilting frying pan with a capacity of 50 liters, hand crank
water tap above the hobs
two prep and work tables 180x70cm
sink 40x40cm with shower tap for cleaning vegetables etc.

waterproof, anti-slip floor with several drains

cleaning area separate from cooking area
two large sinks of 50x40cm with shower tap

commercial dishwasher with cleaning programs of 1-3 minutes and automatic detergent system

large refrigerator with a capacity of 360 liters in the kitchen (further refrigerators available)
Our wide range of cookware includes stainless-steel pots and pans of all sizes, cast-iron frying and roasting pans for both stove and oven, and of course all the lids our pots and pans need. In addition, standardized Gastronorm containers and 4 baking trays of 65x53cm.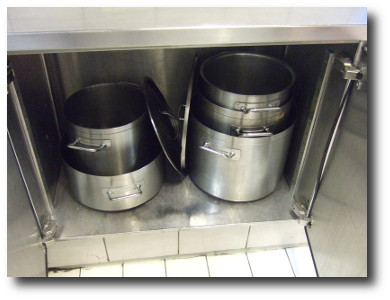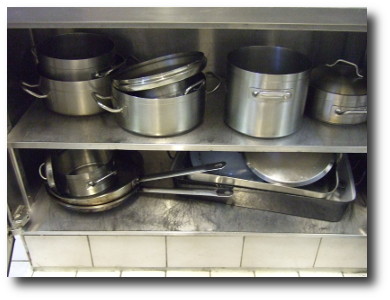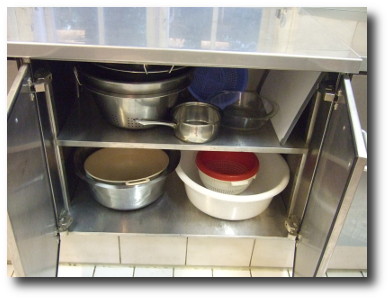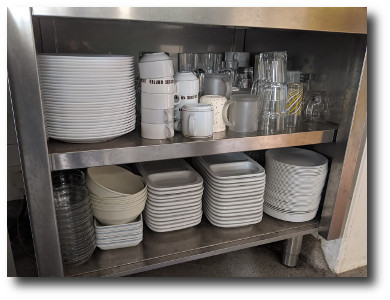 Moreover, we have an ample supply of cooking utensils, such as cutting boards, trowels, cheese graters, meat forks, knives, sharpening steels etc… just to name a few.
Needless to say, we also have all the plates, glasses, mugs, trays, pitchers and cutlery to serve whatever food our guests crave - for up to 40 guests.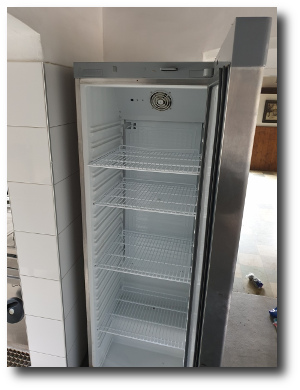 Two drip coffee machines complement our kitchen.